This is probably going to be a short post. I hope tomorrow to add some pictures in the character gallery, but I've been quite busy. I'm currently working on a new HataMaou fanfic. One which I hope will bring a lot of laughs and humour. While I'm not going to reveal anything yet, except that it's a crossover and its loosely following the novels, but I have some changes and other things planned. Chapter 1 and 2 are already finished chapter 3 and 4 have a little complication which delays the writing progress and chapter 5 is also in progress. I really hope that this time I can finish at least one multiple chapter fics. While this one is probably going to be long. I'll do my best to get as far as possible. It's also tha reason why I haven't published it yet. At least until I'm far head in the chapters will I publish it. The story will first e up in Tumblr and later on FF. just as a test run to see if I can get the same amount of readers as in FF.
Anyway, that was it for now. Enjoy your, morning/ afternoon/ evening/ night!
I'll just leave this cute picture of Alas=Ramus. Drawn by the wonderful person who also draws the HataMaou manga!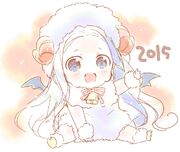 Dreamingflower (talk) 19:48, September 16, 2015 (UTC)